Collagen Lip Mask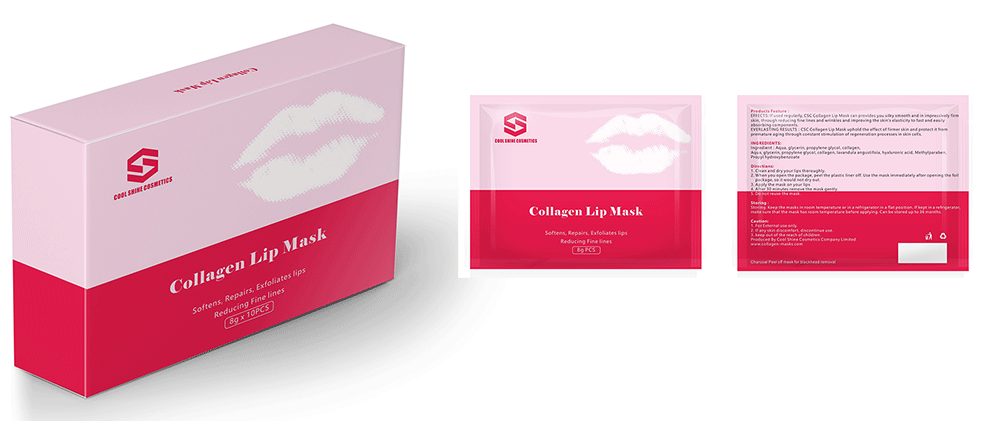 | | | |
| --- | --- | --- |
| Name: Collagen Lip Mask | Material:Crystal | Supply Type:OEM/ODM Or Our CSC |
| Use Area:Lip | Feature:Anti Wrinkle, Moisturizer | Ingredient Listing: Collagen, mushroom extract |
| SKin Type:All types of skin | Validity:3 years | Place of Origin: China |
| Certification: GMP,SGS,MSDS | Use Time: All day | Samples:Yes |
Professional supplies of collagen lip mask supplier for your own brands,all natural collagen infused lip mask provides deep hydration result,also it reduces lip wrinkle,improves the lip color.
Collagen Lip Mask is liked by more and more consumers.Lip mask is the mask for lip area, generally, lip mask contains the functional ingredients which remove cutinase and moisture lip. The purpose of lip mask is to moisture and soften the skin and remove aging cutin, so the nutrition and gloss can be provided and lightens the lip pigmentation. The lip care products are used on the lips directly which is close to the mouth, as a result, the lip mask are not allowed to contain any harmful ingredients. According to the European regulation, lip mask cannot contain essence, colorant (the oxidizable metals such as Silver powder,CT77491,) preservatives(such as formaldehyde,  Salicylic Acids, imidazolidinyl Urea ).Those are the mandatory requirements. The European Union supports natural organic lip mask. Those natural organic products do not contain artificial chemicals as raw material. Generally, natural plants extract are chosen as raw material for the lip mask.Purpose of lip Mask
Remove aging horny layer
Generally, there is thin particles included in the lip mask which help remove aging horny layer gently. If the lip mask provide this kind of function, we cannot use it daily. It is better to apply it no more than twice a week.
Moisture lip skin
There is functional ingredients which can moisture the lip. The lip mask can moisture lip skin in great extent, thus the lip can become soft and elastic.
Remove lip wrinkle
The lip wrinkles are caused by nutrition deficiency and dry problem due to water missing. The use of lip mask can make up the nutrition needed by the lip skin and moisture the skin, as a result, the lip mask wrinkles can be reduced.
Improve the lip color
The lip mask can help in lightening the dark colored lip. Especially just after using the lip mask, he lip would be moistened. Additionally, or the people with light dark color, the lip would be rejuvenated after using lip mask.How to make full use of the lip mask?
To make full use of the lip mask's function, you have to use it in appropriate way"
Clean the lip skin completely firstly, so the functional ingredients can be absorbed perfectly.
After cleaning, you can use warm towel onto the lip mask.15 minutes later, peel off the lip mask and clean.
After application of lip mask, you can use lip butter to enhance the lip care result of lip mask.
Other Products You May Like